The Elizabeth Fry Society of Calgary offers an intensive volunteer
program and rewarding experience for volunteers interested in
a career in justice, law or social work, or for those individuals
looking for a meaningful way to give back to the community.
Volunteerism is an essential component of Elizabeth Fry Society
of Calgary's service delivery. It enables us to reach thousands
of individuals through all of our programs. We have several
opportunities for volunteering throughout the year and welcome
applicants 18 years and older.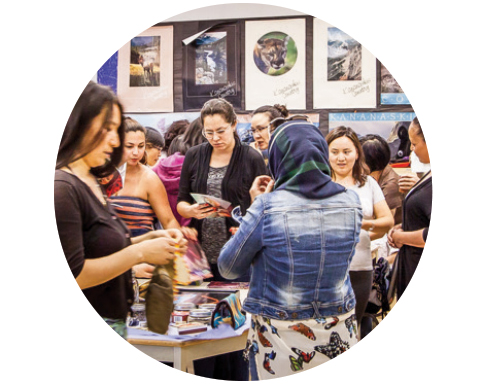 Volunteer Opportunities
Communications Volunteer: Newsletter and Social Media: (1 year commitment required) – Assists our promotions and marketing
department with journalism, social media and blogging.
Special Events Volunteer: Provides temporary support to planning, organizing, and/or participating in events. (EFry week events,
Community fairs and information sessions, cultural celebrations, and other events planned by the agency).
Legal Advocacy Program Volunteer: (must be a foreign trained lawyer or have completed a law degree) – Assists the legal information
program with supports with clients who require more in depth supports due to language or other barriers. Attends court as a support
system, delineates legalese to clients to assist understanding the context of their court matters. Provides follow up and individualized
assistance to women and their families with legal needs through information, advocacy, and supports.
Program Resource Volunteer: Provides support to the agency through administrative and program supports. Assists clients with
basic needs items, access to their mail, and information. Contributes to the reception work of the agency, special projects, as well as
prison follow up resources.
Youth Mentorship Volunteer: (mandatory one-year commitment required): Assists youth involved with the criminal justice system, with assistance attending court for emotional support, follow up on their court orders, and mentorship of a youth throughout their processes. This intervention program assists vulnerable youth involved with the justice system and helps youth meet the expectations of their conditions and prevents detention or further charges from being added. Through relationship building and positive social activities, mentors develop natural relationships with youth which enhances the trust they have in working with the system and encourages the completion of court orders.