April 11, 2016
Maybe, because all these good people loved me enough to help me, maybe I wasn't quite as bad as I felt. Maybe there was a part of me that was worthy of their love.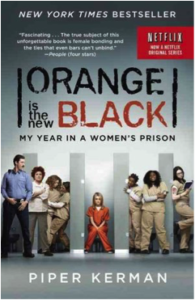 An Experience of Incarceration
On April 14th, we have the honour of presenting Piper Kerman at our major fundraising event The View from Behind Bars: An Evening with Piper Kerman. Piper Kerman is the best-selling author of Orange is the New Black, My Year in a Women's Prison and inspiration behind the Netflix series of the same. She will share her experience of incarceration and the intersection of her life with the lives of the women she met while in prison. Her true story explores the friendships and families with these women as well as their mental illnesses and substance abuse issues, cliques and codes of behavior.
Finding Another Chance
Much like the women in Piper Kerman's memoir, the women we serve at EFry all have unique stories. They are linked together by common themes of poverty, abuse, addiction and trauma. It is this cycle of poverty that must be addressed and broken for lasting change to occur.
An Evening with Piper Kerman is about finding another chance after incarceration. Through this event, we hope to create new community relationships and understanding about the unique challenges facing women and their families who are transitioning from prison to our community.
Thank you for Supporting 50 Years of New Chances
This event is EFry's largest fundraiser in its 50-year history and would not be possible without the generous support from our event sponsors: CTV Calgary, Corus Entertainment, Bow Valley College, Athabasca University, Display Graphics, Landstar Communities, Krywolt Insurance, Mosaic Communications, Quantum Place and United Way of Calgary and Area. Thank you to these organizations for being part of our historic event that will shape the future of women and children in our community for years to come.
Tickets: Eventbrite.ca