May 10, 2019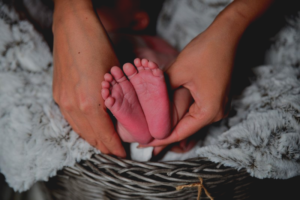 "I owe a big thanks to The Elizabeth Fry Society of Calgary in helping me become the person I wanted to be and am currently," Dovena said. "And to be the mother I am today."
Dovena first came to the Elizabeth Fry Society of Calgary in 2008, when her caseworker mentioned the organization. She participated in a program the organization hosted at the time, and over the next ten years, Dovena came into the office for food, toiletry items, or just to talk.
"I always felt safe and connected with the staff. They were always so kind to me and accepted me." Dovena said.
Knowing that the Elizabeth Fry Society of Calgary works in partnership with Calgary community agencies to provide safe, affordable housing for women, Dovena came to the organization seeking assistance in finding a place to call home after completing her sober living program. Shortly after she moved into her new home, she knew the next step in her journey was to enter the SAGE program.
The SAGE program is a 12-week program that provides a cultural foundation and supports women through experiential learning and expressive activities like photography. Participants are empowered and equipped with skills to help them on their path towards accessing training, education or employment.
"Through the program, I learnt that I am not very good in making eye contact with other people until I trust them," Dovena said. "I am getting better at this. The program helped me become more self-assured, I did not give myself enough credit before and would always second guess myself."
"I enjoyed coming in the morning seeing the staff member of the program and being able to talk with her about what was on my mind, before the program started for the day."
At the SAGE program, she felt a connection with her fellow participants as well.
"We had some similarities which we could relate to with one another," she mentioned.
"I have grown in my confidence and am comfortable enough with myself now to stick up for myself. Having the dedication to complete SAGE was a huge accomplishment," she said.
Another great moment for Dovena occurred in February, when she gave birth to her son. Dovena does not currently have custody of her three other children, but she is in the process of changing this situation. Dovena's eldest daughter, who is very protective of her youngest sibling, wishes to come home and live with her mother permanently. This may occur as soon as July. For her two other children, the process will take a bit longer, but she is grateful for a renewed connection with them. "They fear that I will not come back when I leave after visiting them, but they know that I am making a home for them and it is a matter of time we are all under one roof together," Dovena said.
When asked what family means to her, Dovena says, "being together, showing love for each other and sharing time together." She explained that she and her four siblings were all separated at a young age as their mother was unable to take care of them. So the sole essence of having a family together under one roof means a great deal to Dovena.
In September of 2019, Dovena will begin a new chapter in her journey of recovery and stability by going to back to school to upgrade some classes. Her ultimate goal is to become a social worker in addictions counselling.
"The Elizabeth Fry Society of Calgary was a great support for me," Dovena said. "If the staff didn't have what I needed they would go to great lengths to find it. The resources they directed me to were priceless. They were my home away from home."