April 8, 2019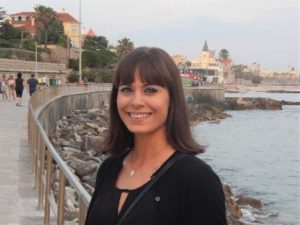 Written by: Andleeb Azad
Jessica Zuk is an undergraduate student, currently enrolled at Royal Roads University in Victoria in the Justice Studies degree. Upon completion of her degree, Jessica wishes to work as a probation officer, hopefully for an organization similar to the Elizabeth Fry Society of Calgary. She began to volunteering with the organization in the Youth Mentorship and Legal Advocacy Program in March 2018.
Jessica became a volunteer because she wanted to help others who have not had the same chances she has had in life.  She wished to gain hands on experience working in a justice-related non-profit organization, and wanted to familiarize herself with the field.
Jessica explains that her role with the organization has allowed her to make significant change in the lives of the youths she has worked with.  "I strongly believe in the mission and purpose. I understand that those who become involved with the justice system are not 'bad' people. In fact, they are often victims of circumstances beyond their control. We all need to be aware of the role poverty plays in our criminal justice system, and without organizations like the Elizabeth Fry Society of Calgary, we would not be working towards breaking the cycle of poverty."
What has working with the Elizabeth Fry Society taught you, both in your personal and professional life?
Through volunteering with the society, Jessica believes that she has developed patience. "Dealing with youth forces you to become patient, which is a weakness for me, so I have been fortunate to develop that trait during my time with the Elizabeth Fry Society of Calgary," she asserts. Furthermore, her listening skills have developed. "I have always been a strong listener, but I would also add that being a good listener is a really important skill to have when working with youth."
Why do you believe the community should be supporting the Elizabeth Fry Society?
Jessica recommends volunteering with the Elizabeth Fry Society of Calgary: "Definitely do it! It's incredibly rewarding and inspiring. It is also a great way to challenge your biases and perceptions about young offenders and the criminal justice system in general." Specifically on the area she is volunteering in, Jessica comments "I think it's very important because young offenders so often become adult offenders, thus early intervention and support is so critical… I think it's incredibly important to mentor youth. When youth become involved with the justice system, they are more likely to become imprisoned as adults, thus it is important to have a program that promotes pro-social behavior for these young people."
There are other ways to support the Society (donating, for example) and Jessica explains why support is vital: "The work is really important. This may not be a flashy multi-million dollar company, but the impact the organization has on peoples' lives is something that should be celebrated and recognized. It's the people behind non-profit organizations like the Elizabeth Fry Society of Calgary that are making the greatest social impact in our communities and changing the world for the better." To those who need help and may be hesitant, she advises "You can't go wrong getting involved in a program like this. The volunteers and staff at the Elizabeth Fry Society of Calgary are incredible people who are very dedicated to what they do. They will do everything in their power to support you and help change your life for the better."
How has your role with the Elizabeth Fry Society changed you as a person? How do you think it has changed or impacted those who've come to its doors seeking help?
"I love volunteering. I believe one cannot live a fulfilling life without giving back to others," Jessica says. "I am very proud of what I am doing and the organization that I volunteer for." She also believes it has left a lasting impression on her life, as well as those who she has helped: "I hope to leave a positive impression on my mentee because I know she has certainly had a positive impact on me…I do feel that I am making a difference. Every volunteer is making a difference simply by donating their time and spending time with the clients. Even if my relationship with my mentee positively impacts her life in the most minor way, I still feel that my time was well spent."