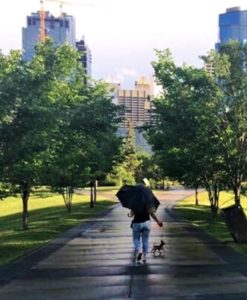 Written by: Natalie Jovanic
Tatiyana has been a volunteer for the Elizabeth Fry Society of Calgary for nearly a year. Initially, she volunteered in the Adult Criminal Court Program on the Case Management Office floor, then transitioned to the Traffic and Bylaw Court.  She connected with the organization's work because she admired the agency's initiative in helping women integrate back into society in the face of the obstacles they are presented with, poverty in particular. Her passion for the organizations work also derives from personal experience: her mother was a single teenage mom and for that reason, they sought aid in the YWCA shelter. In her spare time, Tatiyana likes to cook and make her loved ones happy. She also enjoys travelling and experiencing different cultures. She will graduate from the University of Calgary in November 2019 and plans to take a year off to work and volunteer more before applying to law school.
Insights about the options in the legal system
Volunteering for the Elizabeth Fry Society of Calgary has given Tatiyana the opportunity to further develop her communication and customer services skills. Above all, she has learned more about the justice system. She is now aware that the legal system has more options available for individuals than she commonly perceived. For example, for adult criminal charges at the Case Management Office, there is an Alternative Measures Program or the Alberta Health Services Mental Health Diversion program. Alternatively, on the Traffic and Bylaw floor, there are several potential options available to individuals with expensive tickets.
It is important for organizations like EFry to support people through the obstacles in society.
Integrating emotional and legal support for people from diverse background
Clients greatly appreciate the legal information Tatiyana provides, which assists them in preparing for their court appearances. Small talk is very helpful in easing the process and it builds a sense of trust because they often come to her after speaking to the Justice of the Peace or Crown to ask more questions. Particularly those who are new to Calgary or Canada do not fully understand and often come to her for more clarification. Volunteers who speak different languages are very important in helping clients as language becomes a barrier adding to the stress of the process. Tatiyana speaks Spanish which has been an amazing help to people who seek interpreters to deal with their ticket. Overall her role is extremely important in providing clients with adequate information to prepare them to deal with their court matter.
Supporting people to understand their rights
Tatiyana sees the value of her volunteering as the clients are usually intimidated because they do not fully understand what to do with a ticket. The volunteers are making a difference in the courthouse because they help ease the process and help clients feel prepared. Many people walk in the courthouse and are intimidated, finding themselves lost and not knowing what they are there to do. The information volunteers provide clients often assists them beyond one court appearance, as they can apply the information to further court matters they may require to deal with. Clients become familiar with what they need to do, and Tatiyana thinks that is important because individuals need to understand their rights and options. She is especially happy to know that the Elizabeth Fry Society has a program to assist recently immigrated individuals with integrating comfortably into society, as it is a very vulnerable position to be in. This program makes the process less frightening.