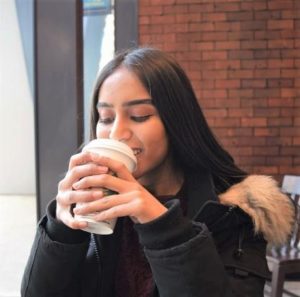 Written by: Selwynne Hawkins
Serena Sajan has been a Traffic and Bylaw Court volunteer since December 2018. Like many volunteers at Elizabeth Fry Society of Calgary, Serena is a student at the University of Calgary.  She first learned about the organization while searching for volunteer positions in the legal system, and she hopes to continue on to law school after completing her undergraduate degree.
Between studying and volunteering—for Elizabeth Fry Society of Calgary and the University of Calgary Business Career Centre—Serena keeps busy, but she saves time and space for the things that bring her joy. A self-described mocha fanatic, she finds happiness in fitness, Netflix, and new makeup.
What have you learned in your time with Elizabeth Fry Society of Calgary?
I have really improved my communication skills, as I regularly explain complex processes to individuals in a simplistic way so that others can understand.
Being emotionally stable is very important as a volunteer. It is so beneficial if you remain calm and patient with those you help, because they can be very expressive. Volunteers cannot take things personally, and having a strong backbone is a skill I have learned so far.
What would you say to someone seeking help from you in Traffic and Bylaw Court?
The greatest insight I have gained from volunteering is that there are no judgements while helping others. You keep your biases to yourself. It's all about helping other people at the end of the day.
Volunteers are not experts and may not know everything to help you, but we can equip you in the best way we know how to face your matters with ease. We can help guide you through the process and support you, because we know it can be hard being at court, but just give us an opportunity to help you.
How meaningful is your role with Elizabeth Fry Society of Calgary—both for you and for clients?
I enjoy stepping out of my comfort zone and constantly pushing myself to do the best I can. As a court volunteer, I am doing this. It is a bonus that I am learning more about the law and its processes.
I do feel like I am making a difference in the community, since I can see that my help is benefitting others. I have received great feedback; clients that I have helped come up to me after they are finished with the court process and express how thankful they are for my help. Sometimes when you volunteer, you often cannot see if you are making a difference, but volunteering with Elizabeth Fry Society of Calgary has definitely shown me that my contribution matters.