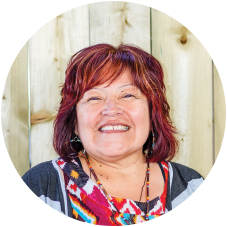 You make a difference.
The generosity and kindness of our community enables us to help at-risk women and youth find new hope and healing. Every dollar donated and every minute spent makes a difference.
Thank you to our volunteers, as well as the individuals and organizations, who support our work in Calgary. With your help, our
programs help women and their families gain a fresh start with training, cultural connections, education, jobs and more.
Thank you for giving them a chance to start again.
Partnerships and Collaborations
Aboriginal Friendship Centre Calgary
Alberta Coalition Against Human Trafficking (ACT)
Alberta Health Services Addiction Services – Mental Health Diversion
Alberta Justice and Solicitor General
Alex – Youth Health Care
Calgary Alpha House Society
Calgary Attendance Centre
Calgary Bridge Foundation
Calgary Court Centre and Area Regional Courts
Calgary Immigrant Education Society
Calgary Immigrant Women's Association
Calgary John Howard Society
Calgary Legal Guidance
Calgary Public Library
Calgary Remand Centre
Calgary Women's Emergency Shelter
Canadian Association of Elizabeth Fry Societies
Centre for Newcomers
Chinook Learning Services
Correctional Services Canada – Calgary Parole
Immigrant Services Calgary
Lethbridge Correctional Centre
Legal Aid Alberta
Native Counseling Services
Okimaw Ochi Healing Lodge
Regional Court Victim Assistance Teams
Rowan House
SORCE
Stoney Tsuu T'ina Correctional Services
Welcome Centre for New Immigrants
Women's Centre of Calgary
Youth Criminal Defence Office Funders
YWCA
Committee Work
Aboriginal Standing Committee on Housing and Homelessness
Calgary Court Meetings
Calgary Homeless Foundation – Coordinated Access and Assessment – High Acuity Table
Calgary Learns Indigenous Advisory Council
City Wide Case Management
Employment Committee Information
Indigenous Justice Community Table
Housing Partnership Designated Funds Community Advisory Board
Identity Based Wrap Around Intervention
Indigenous Gathering Place
Indigenous Domains
LGBTQ Advisory Group
National Managed Alcohol Program (MAP) Research
Recovery Services Task Force
UWAY Natoo'si
Vibrant Communities Calgary – Justice Constellation
Funders